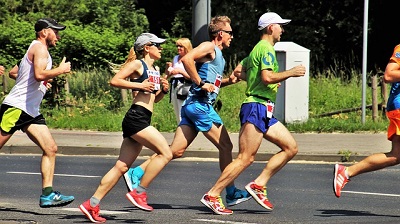 One of the many things that makes Austin a vibrant, exciting place to live is the annual Turkey Trots. Not only do these fun events encourage folks to get involved in our community and celebrate the upcoming holiday season, but they also help raise money for worthy causes.
Unless you're new to the Austin area – or have been living under a rock for the last 28 years — you've undoubtedly heard of ThunderCloud Subs Annual Turkey Trot. This rapidly growing event is billed as Texas' largest five-mile run… and the second largest Turkey Trot in the state (Apparently, there's a larger one in Dallas). With participation surging to over 20,000 participants in 2018, the popularity of the event has taken on a life of its own! Although this is an Austin event, it attracts runners from all over the country – 49 states, to be exact. Runners from a handful of foreign countries also sign up.
Volunteerism is Alive and Well in Austin
We would be remiss if we didn't also mention and applaud the efforts of the 600 dedicated volunteers who make this massive community event possible. And best of all, 100% of the proceeds go directly to a non-profit organization , Caritas of Austin, that helps homeless people in the Greater Austin area.
Last year, alone, the event raised $350,000, which helps pay for an array of worthwhile programs and services for the homeless in our community. Among the objectives of Caritas is making sure everyone has a safe home, access to wholesome groceries, opportunities to learn vital life skills, and assistance in getting a job that provides a decent wage.
If you're interested in cheering on the runners and showing your family a fun time before your Turkey Day feast, the event takes place on Thursday, November 28th, at the Long Center for the Performing Arts, 701 West Riverside Drive in Austin. In addition to the five-mile run, there will also be a one-mile walk and the Stepping Stone School's "Kid's K."
As the organizers point out, it's "become a favorite Thanksgiving tradition for may Austin families and individuals who want to do something healthy and helpful before the big meal!" To add to the festivities, there will also be live music, children's activities, and a raffle.
More Turkey Trots Being Held in Austin
Other worthwhile running events taking place in Austin on Thanksgiving include Steiner Ranch Turkey Trot (8:00 AM – 10:00 AM at Towne Square Park, 12550 Country Trails Lane, Austin), the 1st Annual Westlake Neighborhood Turkey Trot (8:30 AM – 11:00 AM at 2808 Trailview Mesa Cove, Austin), and Hill Country Turkey Trot (7:30 – 9:30 The Hills Country Club, 26 Club Estates Parkway, Austin). A few other Thanksgiving-themed races scheduled before and after the holiday, including Turkey Trails (9:00 AM to 11:00 AM, at Old Settlers Park, 2003 Harrell Parkway, Round Rock) on November 24th and the Lockhart State Park Turkey Trot on November 30, 2019 (begins at 9:00 AM at 4200 Smith School Road, Austin). Note: Make sure to confirm locations, times, and dates before attending.
One of the reasons we're devoting a blog post to the topic of these community events is that we believe in what they stand for. It's a fun way to usher in the holiday season, while focusing people's attention on helping the less fortunate, supporting worthy causes, and setting a positive example for our children. If you happen to be among the thousands of people participating in one of these fun Turkey Trots in the Austin area, you're sure to enjoy the satisfaction of improving your physical fitness, getting out of your "comfort zone," and accomplishing a worthwhile goal.
Our entire staff and management at PMI Austin wish everyone a very happy and healthy Thanksgiving!
Stay tuned to this blog for updates, announcements, and "news you can use" for your business and personal life. We also offer helpful resources on our website for residents, apartment and house renters, and income property owners.