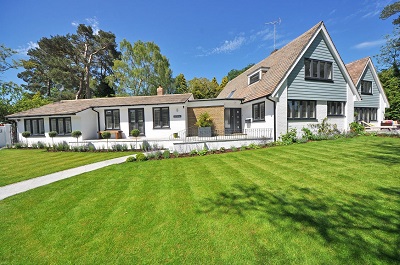 The top three elements of good landscaping are simplicity, variety, and balance. As a rental property owner in Austin, keeping your landscape design simple, yet varied, makes sense from both a budgetary point of view and a time management perspective.
While, on one hand, you want your property to be visually appealing and inviting to current and future tenants, you can quickly reach a point of diminishing returns if you exceed your budget and go overboard with too much landscaping. There are distinct advantages to adding elements of nature to your rental property, though; and it can be done without breaking the budget!
Saplings, Shrubbery, and Flowers
Trees and bushes – especially flowering ones – can enhance the ambiance of your property. Granted, they do need to be pruned every few months, so they don't get overgrown, but the benefits of cultivating vegetation on your property outweigh the time and cost of maintaining it.
If you are looking for trees to plant that are popular and tend to do well in the Texas climate, here is our top-ten list of possibilities:
Elm trees, such as the Cedar elm and American elm
Desert willow
Mexican plum
Eastern redbud
Bald cypress
Bigtooth maple
Magnolia, including the Southern magnolia
Yaupon holly
Camphor trees
Oak trees, such as the Mexican white oak, Monterrey oak, Netleaf white oak, Southern live oak, Bur oak, and Chinkapin oak
In addition to improving the appearance of your property, trees and bushes can also provide much-needed shade, privacy, and energy conservation. According to the non-profit organization Earthshare, trees also tend to increase property values, reduce crime, and create a more tranquil environment.
Several university studies show that trees appear to have a positive effect on our psyches. The presence of trees has been shown to reduce stress and lessen the probability of vandalism, littering, graffiti, and domestic violence.
Other Landscaping Ideas
Planting perennial flowers around buildings, walkways, and border areas will beautify your property and reduce the need to continually replant new flowers every year.
On its website, the Garden Lovers Club offers this list of the 17 perfect Texas perennials:
Bee balm
Black-eyed Susan
Coral bells
Marshmallow hibiscus
Mexican bush sage
Purple fountain grass
Lenten Rose
Bird of paradise
Yarrow
Oxblood Lily
Carnation
Phlox
Mexican heather
New gold lantana
Firebush
Mexican Honeysuckle
Mexican Petunia
Nurseries, home improvement stores, and flower shops in the Austin area can provide you with advice on when, how, and where to plant perennials, potted plants, ornamental bushes, and flowering trees. Other nice touches you can add to your property's outdoor areas include stepping stones, garden statues, bird baths, benches, picnic tables, Adirondack chairs, bird feeders, planters, and flower beds.
Depending on how much property you need to maintain – and your available time and energy — it may be necessary to hire a lawn maintenance service or landscaping company to keep your property looking manicured and well maintained. Contractors may also be needed if you are considering adding features like backyard decks, patios, retaining walls, outdoor lighting, walkways, gates, or fences.
The great thing about landscaping is that a little goes a long way! You do not have to do it all at once, and almost any improvement will make a noticeable difference in the look and feel of your rental property.
Maintaining curb appeal and keeping your premises looking inviting from the outside is one aspect of attracting and retaining quality tenants. Contact PMI Austin when you're ready to take it to the next level, in terms of professional property management, tenant screening, marketing, rent collection, and staying on top of maintenance requests. Check out our full range of services, including financial reporting services, property inspections, and much more.