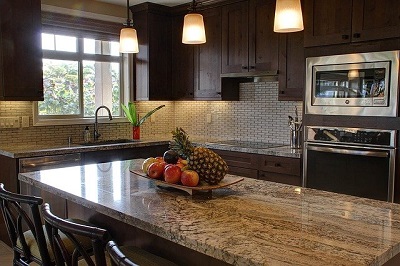 When a prospective tenant looks at your apartment or house for rent, they want to know at least three things: Will I be comfortable here? Will maintenance issues be taken care of quickly? Will I be safe? Making a few changes or improvements in your rental units can not only make it easier to attract new tenants, but you'll also be more effective in retaining them. Small upgrades and enhancements can make a major difference in tenant satisfaction and the marketability of your rental property.
Interior lighting: Adequate, modern lighting tends to make rooms more cheerful, attractive, and functional – especially kitchens, bathrooms, and reading areas. Whether tenants are preparing food, getting ready in the morning, or entertaining guests, the quality of the interior lighting in your rental units can have a big impact on their satisfaction. Dimmer switches are an inexpensive feature you can add to enable tenants to alter the intensity of lighting to fit their mood, activity, or task. Adding three-prong electrical outlets to areas that lack them can provide renters with more convenience, functionality, and overall appeal.
Comfort: Since excessive heat and humidity can be a source of discomfort here in the Austin area, tenants will appreciate either central air conditioning or individual window units. As an alternative, providing window fans, floor fans, ceiling fans, and screened windows are cost-effective ways to help them stay more comfortable during the hot weather.
Safety is often at the forefront of people's minds — especially women, the elderly, and parents. There are many cost-effective ways to help assure renters that their environment is secure, including outdoor lamp posts, motion-activated lights, spotlights, and the installation of new locks whenever a new renter moves in. Intercoms are a time-tested way for tenants to screen visitors and feel more secure. On a case-by-case basis, there is also the option of setting up security cameras or security monitoring services, possibly for an extra fee. Other safety measures could include smoke alarms, carbon monoxide detectors, and fire extinguishers.
Property maintenance and repairs: Tenants value prompt maintenance service and responsive landlords. Working with a professional property management service can help you avoid the inconvenience of late-night or weekend emergency repair requests. Another way to make your life easier as a landlord is to use a web-based system for handling complaints, maintenance requests, and tenant questions.
A few basic things you can do to demonstrate to prospective tenants that you take pride in your property include adding a fresh coat of paint before new tenants move in. Keeping the outside grounds looking well taken care of also sends a positive message to existing and future tenants. In addition to regular lawn mowing and hedge trimming, other simple landscaping options include flower gardens and hanging flower baskets. Depending on the setting, design features like trellises, white picket fences, statues, birdbaths, bird houses, picnic tables, benches, and Adirondack chairs can also make your property look more inviting and appealing.
If you are finding some of the aspects of property maintenance and tenant management to be overwhelming, you're not alone. Depending on how many units you rent out, what condition they are in, the amount of property you have, and the quality of your tenants, owning income property can be very labor intensive and exhausting!
At PMI Austin, we're an experienced property management company that provides landlords with a variety of services to reduce stress, manage tenant needs, and help make sure your rents get paid on time. Give us a call to find out more about our professional property management services. We can help you with everything from tenant screening and rent collection to property maintenance and marketing. Book a free consultation, today!