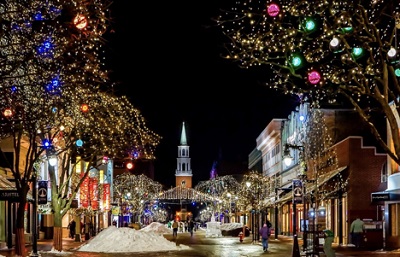 source: https://pixabay.com/photos/church-decoration-night-648430/
First the bad news: Christmas only comes once a year! Now the good news: There are dozens of fun ways you and your family can enjoy the holiday season, this year, without spending a small fortune! One popular idea is to load everyone into the car and check out some of the festive displays of Christmas lights and decorations at several locations throughout the community. Here are a few great possibilities:
For those of us who live, work, and play in the Austin area, the Trail of Lights is a large and growing event that offers holiday fun for all ages! Available from December 10th through the 23rd, this 14-day family-friendly extravaganza features lighted tunnels, 40 dazzling displays, 2 million multi-colored lights, and an array of food trucks, nightly entertainment, merchants, musicians, and family activities! Visit the website to learn about scheduled attractions, movie night (Thursday, December 12th), and the full lineup of musical acts.
Although this is one of those holiday events that requires some planning and a bit of research to get the most out of it, the effort is well worth it! As a time-saving strategy, you might want to order your admission tickets in advance, so that you don't have to wait in long ticket lines to get through the front gate! According to the Trail of Lights, website, advance general admission ticket purchasers can access the Trail through a separate, expedited prepaid entrance. Consider buying your tickets online to help ensure an enjoyable visit to one of Austin's most exciting holiday events. General admission is $5/person, although if you're looking for extra perks and privileges, there are other options, such as the Zip Pass or Platinum Access. As a side note, many people take advantage of the free general admission nights, which are available on Sunday, December 15th through Wednesday, December 18th.
Whatever you choose, your family is in for a big treat when you visit Austin's 55th Annual Trail of Lights celebration! Not only is it an extremely popular event locally, but it's national ranked by CNN as one of the best events in the USA for viewing Christmas lights! If you haven't gone before, the address is 2100 Barton Springs Road in Austin at Zilker Metropolitan Park.
Other Christmas Light Displays in Austin
Although the Trail of Lights festival is considered by many to be the most spectacular in the area, there are several other light displays in Austin and surrounding communities that are also worth checking out.
Sunday, December 15th, 5:00 – 9:30 PM
ACL Live, 310 W Willie Nelson Blvd

The Light Within – An Amphion Christmas
Friday, December 20th, from 7:30 – 8:45 PM
Hope Presbyterian Church, 11512 Olson Drive
Thursday, December 26th, 6:00 PM
Mozart's Coffee Roasters, 3825 Lake Austin Blvd
11th Annual Buda Trail of Lights
Friday, December 20th – Sunday, December 22nd
Historic Stagecoach Park, Buda, TX
Other notable Christmas light shows, decorations, and festivities in the area have been scheduled in Cedar Park, Lakeway, Lake Austin, Giddings, Johnson City, Bastrop, Round Rock, Georgetown, San Marcos, Marble Falls, Pflugerville, and New Braunfels. Although some of these events are over in the blink of an eye, a quick Internet search will provide you with the latest information. If you're planning to attend, it's always a good idea to call or visit their websites in advance to confirm dates, times, addresses, fees, and parking availability.
Regardless of what you and your family decide to do to celebrate this festive season, we at PMI Austin wish you a very Merry Christmas, happy holidays, and a wonderful New Year! Whether you're looking for property management services or a new place to call home in the year 2020, we'd be delighted to help you in any way we can! Call us at 512.861.1397