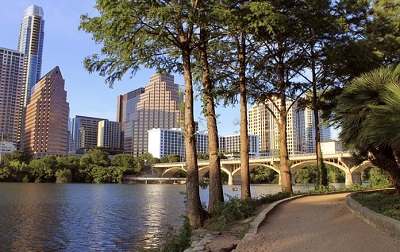 At least for the time being, vacationing at crowded popular tourist attractions and flocking to bustling resort destinations in Texas (and beyond) has been put "on hold" for many Austin families. While 2021 may eventually usher in a return to traditional vacations and relative normalcy, there is a lot to be said for the idea of exploring your own back yard — both literally and figuratively.
Austin Staycations at Home
Instead of spending thousands of dollars on an expensive family vacation, some people are using that money to create a permanent backyard refuge or a resort-like environment in their own home and property. As a result of the pandemic, a growing number of Austin homeowners are doing everything from buying hot tubs and swimming pools to having backyard decks and patios built. Other forms of stay-at-home entertainment may include converting basements into rec rooms, having home theater systems installed, and outfitting game rooms with ping pong tables, billiards, and foosball.
Nearby Austin Staycation Ideas
One of the great things about living in Austin is that there are a lot of nearby recreational facilities and resources to enjoy. In addition to hiking, kayaking, and picnicking, there are dozens of scenic places in and around the city to go bicycling, fishing, swimming, and site seeing. Local attractions like Zilker Park, Lady Bird Lake, McKinney Falls State Park, and Mount Bonnell make it possible to spend a fun day out in nature without having to travel far.
Other enjoyable activities in the Austin area include paddle boarding, camping, and – for those who cringe at the idea of roughing it – "glamping." If you think it is an oxymoron to combine the concepts of "camping" and "glamour," you may be surprised by the many unconventional (but fun) ideas you will discover in a quick Internet search. Whether you are looking for a romantic getaway or a family-oriented staycation at a comfortable cabin, there are a variety of reasonably priced rental options to choose from within a short drive from your home.
Although many of the cabins for rent may have a rustic look and feel to them, they are a far cry from having to sleep on the ground in a stuffy tent! In addition to offering many of the conveniences of home, some cabin and cottage rentals near Austin also feature private hot tubs, Internet access, air conditioning, kitchen appliances, TVs, and proximity to fishing, swimming, boating, and other activities.
Depending on the degree of luxury or simplicity you seek, you can rent everything from furnished tree houses and yurts to vintage Airstream campers and converted shipping containers! With a little research and planning, you can create the perfect staycation getaway that will allow you to stay "socially distanced" without having to sacrifice fun, relaxation, and comfort!
Austin is also home to dozens of luxury hotels, spas, and retreats, including several that feature stunning views of the downtown skyline, local lakes, and other scenery. Make sure to check with each facility for COVID-related policies, possible closures, and safety precautions.
An alternative to planning a mini vacation in the Austin area is customizing your home to create more of a relaxed, spacious, or luxurious environment. Depending on your goals, desired lifestyle, and budget, you and your family may even want to consider renting a home – either on a long-term or transitional basis. If you are looking for a desirable place to call home in Austin — as well as Round Rock, Lakeway, or Cedar Park — we can help! Check out our listings of available rental homes in the area at PMI Austin.
Image by Deborah Jackson from Pixabay