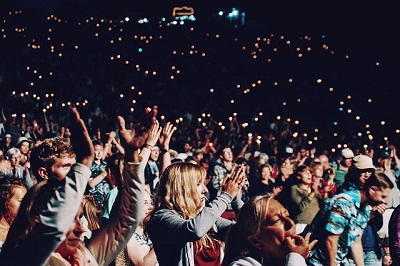 Image Source: https://pixabay.com/photos/people-crowd-hands-clapping-party-2607201/
With less than one month remaining before the 2020 SXSW Conference & Festivals descend on Austin, Texas, many lodging facilities, restaurants, and rental businesses are looking forward to a surge in revenue. The event, which runs this year from Friday, March 13th through Sunday, March 22nd, will undoubtedly generate a ton of publicity and tourism dollars for the city of Austin.
Wikipedia describes SXSW (South by Southwest) as "an annual conglomeration of parallel film, interactive media, and music festivals and conferences organized jointly that take place in mid-March in Austin, Texas." (With so many things going on during the 10-day festivals and conference, it seems nearly impossible to fully describe it in one or two sentences!)
Over the past three decades, the event's growing impact on the area has captured the attention of many in the entertainment industry, as well as writers and editors from major media outlets such as Variety, Billboard, and Rolling Stone. Founded as a music festival in 1987, the event has blossomed into what Austin Mayor Steve Adler refers to as "the world's fair of the future." He said, "The economic impact of SXSW is on par with hosting the Super Bowl, every year, and all participants benefit, year-round."
In addition to a huge conference that features everything from keynote speakers and panel discussions to podcasts and workshop sessions, SXSW also includes a film festival, a comedy festival, exhibitions, and a massive, ever-expanding music festival. According to SXSW's website, "New, developing, and established showcasing artists from 60+ countries are represented each year amongst the 2,000 official performers looking to enhance their careers by reaching new audiences."
Where are these music performances going to take place, you might wonder? Pretty much everywhere, including local bars, clubs, public parks, churches, and several hotels in and around downtown Austin.
In a joint press release, SXSW and economic analysts Greyhill Advisors said last year's festivals and conference impacted Austin's economy to the tune of $355.9 million – the largest amount of revenue generated during the event's 33-year history. SXSW is described in the release as a series of events which "transform the city into a global mecca for creative professionals." In terms of dollars and cents, it also continues to be the single most profitable event for Austin's hospitality industry.
Rental Opportunities Spawned by SXSW
If you offer (or are considering offering) short-term lodging, vacation rentals, or other types of overnight accommodations, there may be opportunities to connect with conference attendees looking for a place to stay. Last year, SXSW directly booked more than 12,800 individual hotel reservations — a statistic which suggests that there may be a high demand for other types of rentals in the Austin area. While many visitors to the area might prefer the conventional feel of staying in a hotel, it's becoming increasingly popular throughout the country to rent condos, private homes, cottages, and other types of lodging.
If you're a rental property owner looking for help in finding high quality tenants, collecting rent on time, and staying complaint with laws and regulations, give us a call at PMI Austin. Through our website, we also offer free property management articles and marketing tips, including strategies for writing effective real estate rental ads. It provides some relevant pointers on how to blend in attention-catching selling points in your rental ad and stand out among the competition.
One thing to remember is that marketing rental property often involves more than just knowing how to write good ads. If you're interested in exploring other aspects of effective marketing and learning more about the value of professional property management services, give us a call, today, at PMI Austin.