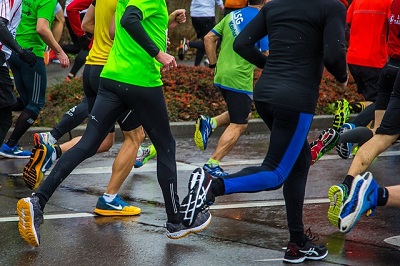 Attention runners and "power walkers!" It's not too late to sign up for the largest 5-mile run in Texas, but the day is fast approaching, so here's what you need to know:
The ThunderCloud Subs Turkey Trot officially gets underway at 9:30 a.m., Thanksgiving Day, at the Long Center. Set up for the event takes place at 5:00 a.m., and many participants begin arriving around 7:00 o'clock.
One of the many reasons this event has become the premiere foot race in central Texas is that it offers something for everyone. No matter what your level of training or fitness is, you can still participate. Whether you feel up to the challenge of a timed five-mile run/walk or would prefer the less strenuous choice of a one-mile run/walk, there are options that enable virtually anyone to join in.
Speaking of "virtually," you can also participate in the event on a virtual basis, an option that nearly 7,000 people took advantage of, last year, because of COVID. The popular Thanksgiving Day tradition, which began in 1991, now attracts more than 700 volunteers and 20,000 participants from Texas and beyond.
One of the special aspects of this annual Turkey Trot is that all proceeds go directly to funding Caritas of Austin, a local nonprofit organization that works to reduce and prevent homelessness in the Austin community. It helps make a difference by providing stable housing, food services, life skills classes, job placement, and veterans' assistance for those in need.
According to ThunderCloud Subs co-owner Mike Haggerty, the event is a great vehicle for raising awareness about the problem of homelessness. "If we can let people hear about the organization, then you get the groundswell support [that] organizations need for long-term success. We give a big check and that's great, but it's about the people who learn about the cause here and then do something about it."
To date, the Turkey Trot has raised more than $4.2 million for Caritas and the at-risk population it serves. Haggerty added that he's especially thankful to return to an in-person event this year after last year being virtual. As far as COVID-19 protocols, coordinators are working with the City of Austin and Austin Public Health to determine what safety guideless need to be in place for this year's Turkey Trot. Updates will be announced.
A Dozen Other Holiday Marathons in the Austin Area
If a smaller scale running event is more to your liking, there are also Thanksgiving Day Turkey Trots scheduled at other nearby locations. They include the following:
For those who would prefer to wait until after Thanksgiving to hit the pavement running, there are also several Christmas and New Year's-themed running events in Austin, Round Rock, Bee Cave, Bastrop, Leander, and Kyle. Scheduled events include the St. Louis Cougar Chase on November 27th in Austin, and the following events on December 4th:
Girls on the Run 5K (Round Rock)
Jingle Bell Run (Bee Cave)
Old Town Rudolph Run (Leander)
Run This Town 5K (Bastrop)
A few more upcoming holiday runs worth considering happen between December 11th and January 2nd.
VRXC Santa Dash 5K (Cedar Park) December 11th
Austin Jingle Bell 5K, December 12th
Rockin' Resolution Race (Austin) January 2nd
With great community events available to both residents and visitors, the Austin area continues to be a highly desirable place to live, work, and invest in. Whether you're in the market for a rental home in Austin or the services of a professional property management company, PMI Austin offers resources for both landlords and families looking for the perfect home. Contact us, today, to find out about our Austin rentals, real estate brokerage services, and property management solutions.